Spray Coating Individual Wires
Utilizing an automated or manual spray coating process is one way to effectively coat small indiscreet wires or components in uniform. This process can benefit any medical company that is looking to have their custom length vascular guide wire coated to specification. This method is typically used for customers that do not utilize pre-coated PTFE wire but for customers who are looking to have specific, unique or one of a kind products coated with PTFE.
What Can Be Spray Coated?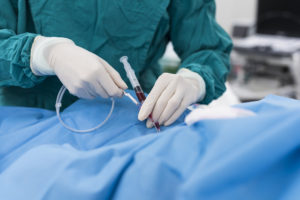 Don't have the coating equipment or experience?
We offer our customers the ability to utilize the coating services of the most highly regarded medical coater in the United States. They provide strictly medical coating operations on some of the worlds most difficult geometrical device designs. This exceptional coating service is offered to any customer or OEM that does not have the ability to coat in-house or is looking to have a complete pre-coated turn-key solution product made and delivered.
Do you currently work with a PTFE coating that isnt meeting your requirements?

Looking to qualify or replace an existing PTFE coating?
With numerous coatings available, you can qualify a new coating here.